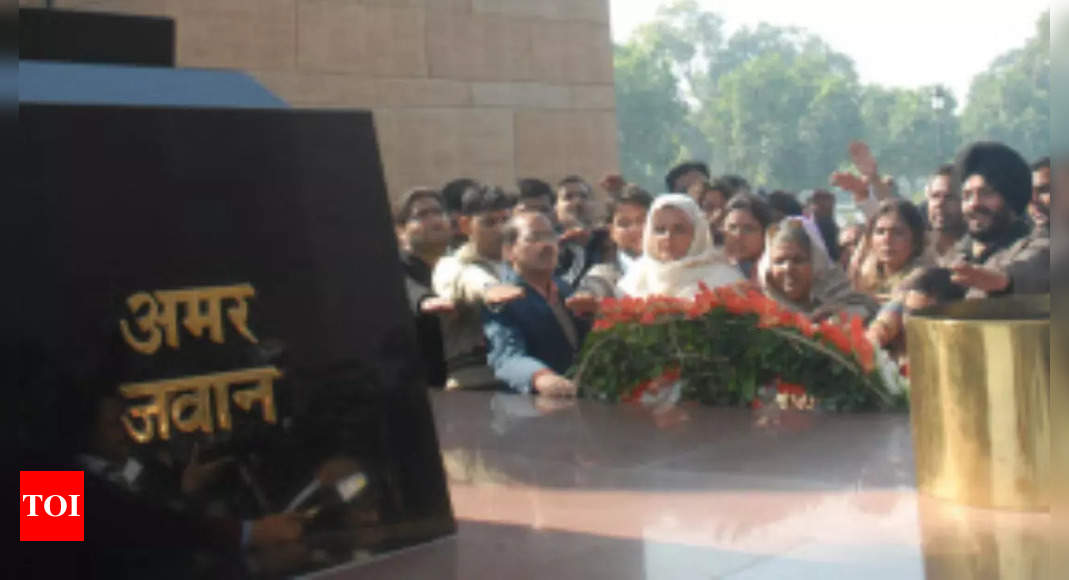 NEW DELHI: The federal government has rejected the competition that
Amar Jawan Jyoti
has been extinguished and asserted on Friday that the flame honouring the troopers who laid down their lives within the 1971 struggle has been merged with the flame on the
National War Memorial
within the neighborhood.
On a day when opposition events criticised the federal government for allegedly extinguishing the "everlasting flame", official sources dubbed the allegation as misinformation. They mentioned the merger of the Jyoti with the flame on the Nationwide Warfare Memorial will mark a tribute to the fallen troopers befitting their sacrifice.
They identified that the Amar Jawan Jyoti, which was lit within the honour of the troopers killed within the 1971 struggle with Pakistan, didn't have the names of the martyrs. "It was an odd factor to see that the flame at Amar Jawan Jyoti paid homage to the martyrs of the 1971 and different wars however none of their names are current there," a supply mentioned.
The names inscribed on the
India Gate
are of just some martyrs who fought for the British within the World Warfare-I and the Anglo-Afghan Warfare, and thus are an emblem of our colonial previous, sources mentioned.
"The names of all Indian martyrs from all of the wars, together with 1971 and wars earlier than and after it are housed on the Nationwide Warfare Memorial. Therefore it's a true 'shraddhanjali''to have the flame paying tribute to martyrs there," a supply mentioned.
In a dig on the Opposition, sources remarked that it's ironic that individuals who didn't make a Nationwide Warfare Memorial for seven a long time at the moment are making a hue and cry when a everlasting and becoming tribute is being made to the martyrs, sources mentioned.
Lt Basic ( retd) Satish
Dua
who oversaw the development of
National War Museum
welcomed the choice on merger of the 2 flames. "It provides me nice satisfaction that the everlasting flame of Amar Jawan Jyoti at India Gate is being merged with Nationwide Warfare Museum," tweeted the retired Basic.
He additional mentioned: "India Gate is a memorial to the fallen heroes of the First World Warfare. The Amar Jawan Jyoti was added in 1972 as we didn't have one other memorial. Nationwide Warfare Memorial pays homage to the Indian bravehearts after Independence. All homage ceremonies had shifted to NWM already."